Superb Image Quality.
Widest Field of View. Unbeatable Value.
The stability and simplicity of a fixed-position construction camera make it the optimal choice for capturing a singular, ultra-wide view of a jobsite.
Rugged Jobsite Cameras for Any Project
Fixed-position cameras produce incredibly high-resolution images with horizontal field of views ranging from 86° to 108°. If you're looking for a rock-solid camera with crisp HD images, these cameras are unmatched.
Available in 12 and 20 megapixels or Ultra HD 4K
Streaming HD Video that Captures Every Detail
TrueLook's Fixed-Position Cameras record all video in high-definition 1080p. This provides a smoother, clearer image, making it easier to catch small details that could otherwise go unnoticed. Access the camera's streaming video at any time to check in on progress, weather, subcontractors, deliveries, and more.
Designed for Stability and Durability
The stability provided by the camera's singular position makes it the optimal choice for capturing time-lapses. Plus, the camera's enclosure keeps it safe from below-freezing weather or blistering heat, minimizing interruptions.
Built-in IR for Exceptional Image Quality, Day or Night
Built-in infrared allows you to capture clear images and video up to 40 meters away — even in complete darkness. Rest assured your jobsite is protected after hours and that our Intelligent Security solution will alert you to any activity onsite.
Available on our Fixed 4K IR camera
Available Fixed-Position Camera Models
Not sure which camera is best suited for your jobsite? Let our experts provide you with customized recommendations based on your site plan.
Resolution

Fixed 4K IR
Focal Length

6.2 – 12.9mm

Hor. Field of View

108°

Vert. Field of View

58°

Infrared (IR) Range

40m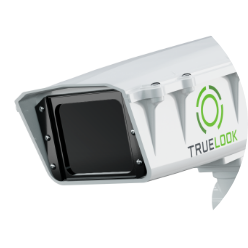 Resolution

12 MP
Focal Length

4 – 13 mm

Hor. Field of View

86°

Vert. Field of View

48°

Infrared (IR) Range

N/A
Resolution

20 MP
Focal Length

10 – 20mm

Hor. Field of View

96°

Vert. Field of View

68°

Infrared (IR) Range

N/A
Fixed-Position Camera Specs
Packages Include
---
12MP, 20MP, or Fixed 4K IR camera
Multi-application wall or pole mount (other mounts also available)
Simple, DIY installation using common jobsite tools
Automatic connection over 4G LTE
Unlimited users, media storage, and cellular data
Camera Specifications
---
Impact-resistant enclosure with minimum IP66 rating
Powered via solar panel (with battery backup) or 120V AC (max 2 amps)
Lifetime warranty
Platform Features
---
Intelligent Security with AI-powered motion alerts
Access your jobsite in real time, from anywhere
Automated and custom time-lapses
Tag, annotate, and share images
View live and historical weather data
No one makes construction cameras as hassle-free.
TrueLook Cameras offer the most comprehensive feature set for the jobsite, giving you the features you need to keep your projects on track, without the added hassle.
4G LTE Included | No Contract Service Plans | No Limits on Users | Free-Forever Media Storage | No Data Limits | Lifetime Camera Warranty | 30 Day Money-Back Guarantee
Every TrueLook
Camera includes:
Remote Live Viewing
Custom Time-Lapsing
Intelligent Security
Unlimited USA Support
Frequently Asked Questions
With TrueLook, no power is no problem. Any of our outdoor cameras can be solar powered, and they come with a five-day battery backup so your camera stays online. Our cameras and solar panels are both easy to install and ready to withstand harsh outdoor environments.
Fixed-position cameras can be a better fit for smaller jobsites and when an ultra-stable time-lapse is a top priority. PTZ cameras provide 360° views for greater visibility from each camera's viewpoint. Fixed-position cameras also tend to be lower cost because they do not have robotic components.
Highly reliable. Our solar systems come with a five-day battery backup to ensure uninterrupted power and service, even overnight and on rainy days.
Camera Accessories
Solar Skids, Solar Panels, Mobile Trailers, Travel Cases, & More.
Contact us for a free, no obligation quote today!
No one makes construction cameras as hassle-free.