Features
Remote Live Viewing
Included with every camera
Check in on all your jobsites from any location and any device with remote live viewing from TrueLook.
With anywhere access and a multi-project dashboard, you can easily keep a pulse on all your projects and catch mistakes before they become costly rework. Our seamless integrations with Procore and Autodesk provide the ultimate project management experience, allowing your organization to monitor every project in real time.
Anywhere, Anytime Access
Simply log in to the TrueLook platform from any internet-connected device to view your project live anytime, anywhere, to quickly share updates with your team. Check in on subcontractors, construction deliveries, weather conditions, and more.
Unlimited Live Streaming Video
Watch streaming video of your jobsite in real time with high-quality video and a silky smooth frame rate. As always, TrueLook provides all customers with unlimited users, which means that you can share camera access with team members, stakeholders or even the general public by way of an embedded link on your website.
View All Your Projects in One Dashboard
Easily access any of your current or past jobs at any time directly from your dashboard. All project data, images, and videos are saved indefinitely as part of TrueLook's Free-Forever Media Storage.
Share Access with Your Team, Clients, and Stakeholders
Give full or limited camera access to clients, team members, or investors, allowing them to keep up with your project's progress. You can even schedule automated emails with image updates.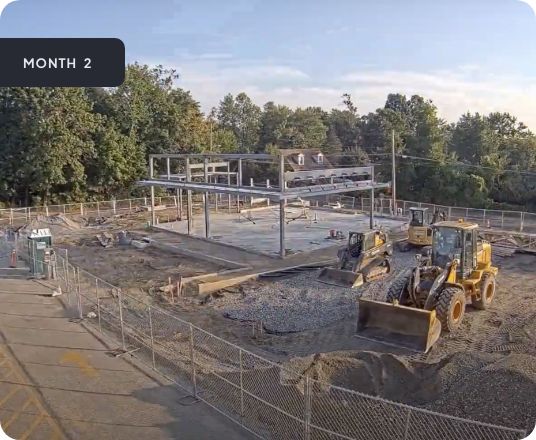 No one makes construction cameras as hassle-free.
Contact us for a free, no obligation quote today!
No one makes construction cameras as hassle-free.
TrueLook Cameras offer the most comprehensive feature set for the jobsite, giving you the features you need to keep your projects on track, without the added hassle.
4G LTE Included | No Contract Service Plans | No Limits on Users | Free-Forever Media Storage | No Data Limits | Lifetime Camera Warranty | 30 Day Money-Back Guarantee
Every TrueLook
Camera includes:
Remote Live Viewing
Custom Time-Lapsing
Intelligent Security
Unlimited USA Support
Frequently Asked Questions
TrueLook is one of the few construction camera companies that make it easy to view your jobsite in real time. Many companies will offer image bursts or other features that don't provide full context.
With TrueLook, we make it easy to check in on your jobsite even when you can't be there in person. Simply log in to check on weather, subcontractor activity, and much more.
Camera Accessories
Solar Skids, Solar Panels, Mobile Trailers, Travel Cases, & More.
Contact us for a free, no obligation quote today!
No one makes construction cameras as hassle-free.