Features
Time-Lapsing
Included with every camera
Capture and share progress from every angle with unlimited, custom time-lapsing and photo documentation.
Capture day-to-day site activity and easily share updates with stakeholders and team members. With our Free-Forever Media Storage, you'll never have to worry about losing your photos or videos.
Automated Time-Lapse Creation
Simply set the schedule you want your camera to take photos, and our platform will automatically create time-lapse videos for you. Watch or download your time-lapses at any time, even mid-project.
Want to make a tweak? Editing time-lapse videos are easy with our intuitive platform. Specify items such as frames per second, speed, music, and removal of night or weekend images.
Capture Multiple Time-Lapses Simultaneously
While fixed-position cameras are always set on one specific view, TrueLook's Pan-Tilt-Zoom Cameras allow users to set up multiple simultaneous time-lapses capturing different points of view. PTZ cameras can pan a full 360˚, meaning you can create separate time-lapses of your structure, parking lot, and staging area all from one camera.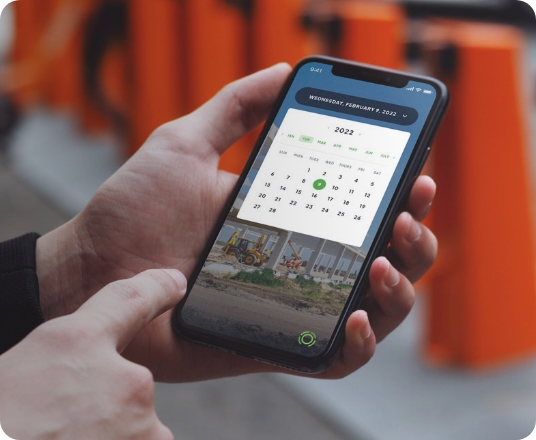 Look Back at Any Time with Unlimited Photo Documentation
With TrueLook, you have complete photo documentation of your project. Never wonder who was onsite or when your materials arrived. You can look back at any date or time to see the exact activity happening. We even log historical weather information for your entire project. This is helpful in the scenario when you need to justify delays or budget needs.
Time-Lapses to Showcase Progress and Marketing
Nothing is more powerful in showcasing your firm's capabilities than watching a construction project as it unfolds. Time-lapse footage can be integrated with marketing outreach to tell a compelling story about your firm, as well as the quality and scope of your work.
For example, a time-lapse video can span the entire project — from breaking ground to building the superstructure, interior construction activities, and all the way to landscaping.
No one makes construction cameras as hassle-free.
Contact us for a free, no obligation quote today!
No one makes construction cameras as hassle-free.
TrueLook Cameras offer the most comprehensive feature set for the jobsite, giving you the features you need to keep your projects on track, without the added hassle.
4G LTE Included | No Contract Service Plans | No Limits on Users | Free-Forever Media Storage | No Data Limits | Lifetime Camera Warranty | 30 Day Money-Back Guarantee
Every TrueLook
Camera includes:
Remote Live Viewing
Custom Time-Lapsing
Intelligent Security
Unlimited USA Support
Frequently Asked Questions
TrueLook offers live viewing, unlimited custom time-lapsing, and Intelligent Security standard on all cameras.
With TrueLook, time-lapses are unlimited. You can schedule as many as you'd like and preview them at any time during the project.
Time-lapses are a great way to document any project. They can be used for generating new business, providing your clients with increased transparency, and much more.
Camera Accessories
Solar Skids, Solar Panels, Mobile Trailers, Travel Cases, & More.
Contact us for a free, no obligation quote today!
No one makes construction cameras as hassle-free.